Version: 1.13
Introduction
This specification describes the core components of the Software-Enabled Flash™️ (SEF) application programming interface (API). The SEF API provides a simple but powerful interface for developers that abstracts low-level flash details of low-level flash memory device mechanics in such a way that allows hosts to interact with flash memory devices as though they were simple performance-optimized read/write devices. Hosts can make use of the SEF API to implement a custom Flash Translation Layer (FTL) or build SEF native applications bypassing all file systems in accordance with their application-specific requirements. The SEF API interfaces with SEF Units. SEF Units are PCIe®️ based NVMe™️ devices that implement the SEF specific extensions to the NVMe Base Specification. These extensions are separately defined as the SEF Command Set. The SEF API addresses the following:
Maintaining interface compatibility across flash memory generations
Allowing host control over data placement to enable application-specific optimizations
Providing mechanisms to enforce hardware isolation to support multi-tenancy and workload isolation
Provides control over housekeeping functions to support predictable latency
Reduces CPU cycles and host overhead via powerful API primitives
Improves flash memory life and health via intelligent automatic resource allocation
The SEF Library implements the SEF API as a linkable library module. The following figure 1 illustrates where the SEF Library is located in the context of a traditional SSD-like application stack. It shows multiple possible integrations of the SEF Library. In some cases the integration is direct like with a SEF enable FIO. Other cases require a host-define FTL exposed to applications as a virtual block device in a QEMU guest. Tooling can also use the SEF Library for configuring SEF units with a command line interface. In all cases, the SEF Library accepts admin and I/O requests and issues a set of commands to the SEF Unit. The SEF Unit then translates this down to an appropriate set of flash memory-level operations and returns status and data back up the stack.
Figure 1: SEF Library Application Stack​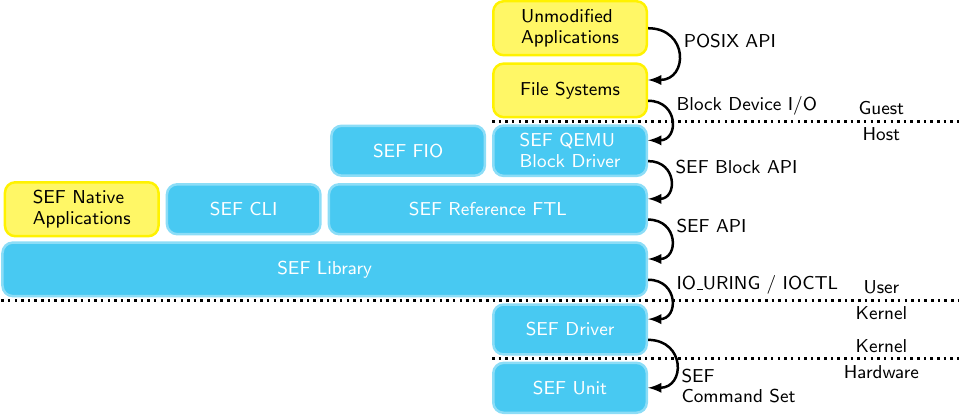 The SEF Unit handles functionality including super block allocation, identifying and working around defective blocks, low-level flash memory I/O, scheduling, prioritization and other device-level concerns. The host layer in turn is responsible for implementing its own data placement strategy (including devising an appropriate logical-to-physical address mapping) as well as coordinating housekeeping functions such as wear leveling, garbage collection, and responding to asynchronous event notifications. The following figure 2 provides a detailed view of data flow within a SEF Unit.
Figure 2: SEF Block Diagram​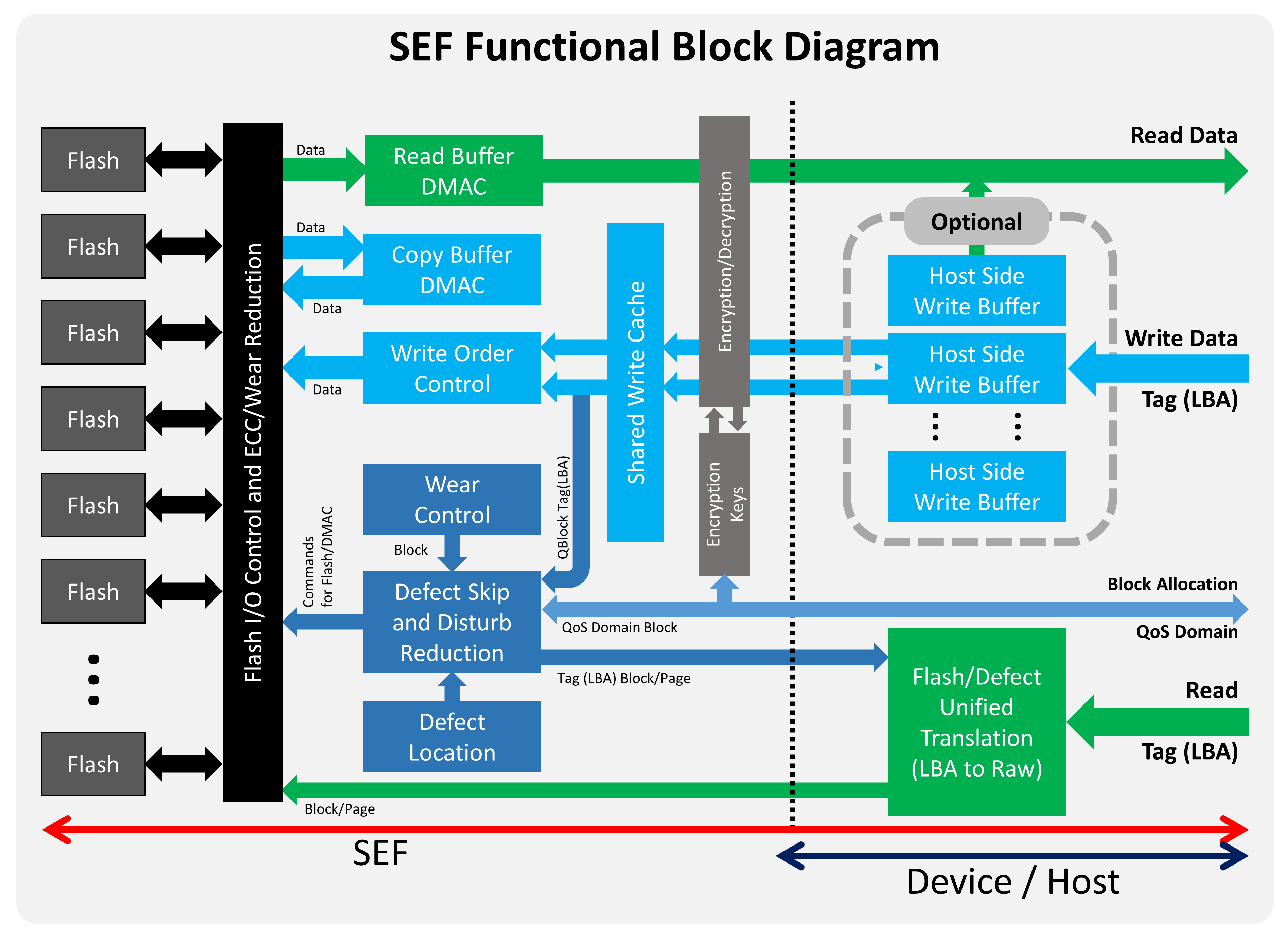 Built in conjunction with the SEF API is a SEF SDK that provides a starting point for host application development. The SEF SDK includes quick start guides for tooling to setup SEF devices for use, sample drivers, libraries, supporting documentation, and an implementation of a fully functional Reference FTL that can be extended or modified as appropriate. It is documented separately.